LinkedIn Marketing is gaining more popularity day by day. However, people are yet to utilise its potential.
Did you know that worldwide, LinkedIn has over 660 million users? That means the platform is one of today's top social networks.
Now, the important question here is: Are you utilising LinkedIn's potential optimally?
A common misconception amongst millions of people is that, LinkedIn is a platform that only caters to job seekers and recruiters.
However, ever since the popularisation of LinkedIn, many businesses have started using it as a digital marketing platform to increase their leads and brand awareness.
This guide is full of LinkedIn tips that you can immediately start implementing to help you learn how to use the platform to increase brand awareness, share your marketing content, and grow your company.
Let's begin by learning a little bit about LinkedIn:
LinkedIn was launched in 2003 and focuses primarily on career networking, construction, and sharing.
The platform allows you to connect with other professionals, including peers, potential employers, business partners, rivals, new employees, and customers, and share content.
LinkedIn Marketing
Marketing on LinkedIn is the process of using LinkedIn to further amplify your brand's online presence. It can be used for a variety of purposes, such as:
Creating links
Improving brand awareness
Generating leads
Sharing content
Driving traffic to your website
Promoting business relationships
And so much more!
Owing to how effective it can be in expanding professional networks, LinkedIn is an integral part of many successful marketing strategies for businesses today.
You gain access to useful features related to analytics, contacts, and brand-building when you use LinkedIn to market your business.
Is LinkedIn Marketing really effective?
TDLR; Yes, it is.
There have, in fact, been some eye-popping revelations compiled in recent years by Linked to Authority.
The biggest winner here is that 93% of B2B marketers believe that LinkedIn is the best place to win leads.
And 64% of corporate website visits originate from LinkedIn.
That's a lead generation magnet.
But in terms of finding B2B leads, LinkedIn has largely flown under the radar despite these positive statistics.
The straightforward answer is that other research has not been so optimistic.
The following data by HubSpot shows that social media as whole isn't the biggest source of company leads.
But social media is part of a well-rounded strategy for generating leads.
And LinkedIn consistently performs the best for B2B lead generation among all social platforms.
Why, you ask?
Approximately 80 of social leads for B2B come from LinkedIn!
Crazy, right?
So while social media overall isn't great for lead generation if you're a B2B company, strategically positioning yourself can provide a steady stream of leads.
It beats out all the other social platforms.
Before we jump into the tactics used for LinkedIn Marketing, let's begin with how you can get started with the platform:
Create your LinkedIn Profile
There are currently over half a billion users on LinkedIn.
That may sound like a lot, but the truth is that most of their user base is not in India.
Not being on LinkedIn means that you miss a global audience from which to draw leads.
You might have exhausted your region, but you haven't touched the world, either.
To get started, all you have to do is create a company page.
It's completely free to start your own page.
Simply enter your company name.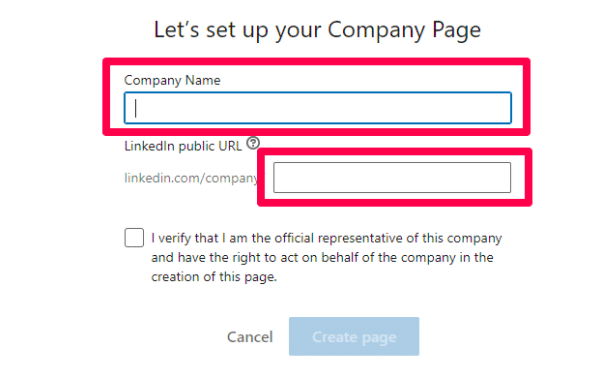 Next, you would need to add your image.
But here's the important part. It can't be just any image.
Make sure the image aligns with what your brand represents and its tone.
Next comes, your company's description.
Be aware that LinkedIn has a character limit much like meta descriptions.
You can go over, but if you can create a description that's under the limit, you'll be better off.
Put your website, industry, and additional information just below the About Us section.

It's a convenient way to give context to your visitor without your copy being bogged down.
This information will be used by LinkedIn to help you appear in searches executed on the platform by others.
It's a convenient way to give context to your visitor without your copy being bogged down.
This information will be used by LinkedIn to help you appear in searches executed on the platform by others.
Share where your physical location is, then.
This will help any potential client to locate your business.
You should try creating links to your company page once everything is set up.
One great way to get started is to post a link from your website to your page.
You can also include it and your email signature in blog posts.
And taada! Congratulations, you are now on LinkedIn!
Struggling with your Linkedin page. Let us help you optmise your page to achieve your desired results. Get in touch with us today.
Now, let's dig into the LinkedIn Marketing tips.
1. Share posts with rich media
Typically, posts with photos and videos perform better on social media.
For LinkedIn, the same holds true.
Posts with images receive 98 per cent more comments than those without, according to LinkedIn.
LinkedIn also finds that custom collages perform well for pages that include 3-4 images in one post.
If you can, try to prevent stock imagery, since custom images tend to see more engagement.
To support your posts, you can also upload PDFs, PowerPoint, or SlideShare presentations.
Videos show five times more LinkedIn engagement than any other type of content.
An advantage of a native LinkedIn video is that when someone scrolls through it, it auto-plays.
It does a better job of catching someone's attention as a result.
Plus, the LinkedIn algorithm gives priority to videos hosted on the platform.
2. Optimize posts for reach and impact
There are a few LinkedIn best practises for companies to consider when it comes to posting from your company page.
The LinkedIn algorithm ranks posts based on the following signals: personal connexions, the relevance of interest, and the probability of engagement.
In other words, from accounts they connect with, it aims to show people content that will interest and engage them.
Make sure your posts aim to do the same.
When you think they would be interested in the post, you can notify employees.
As company advocates, they can jumpstart the post's engagement and increase its visibility.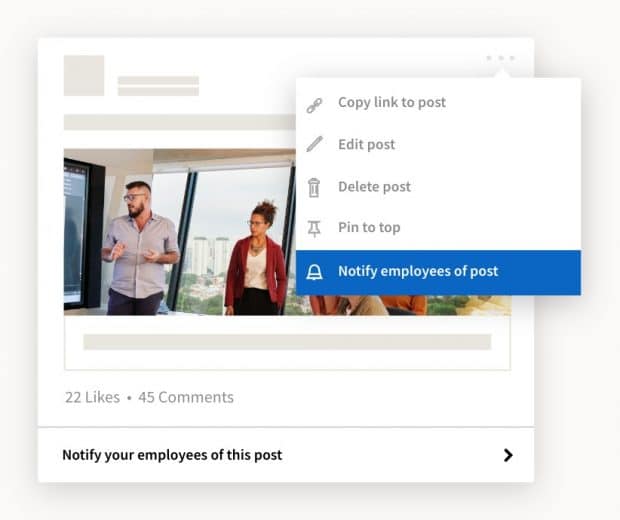 Here are LinkedIn best practices for business posts:
Share timely and relevant content
Grab attention with an image or video
Keep copy short. If you write a longer post, use paragraph breaks or bullet points to make it more readable
Call out key stats, points and quotes
Include a clear and simple call-to-action
Name the audience you're trying to reach (ie. "calling all creatives" or "are you a working parent?")
Tag people and pages mentioned
Lead with a question to prompt responses
Create LinkedIn polls for feedback and engagement
Include two to three relevant hashtags in a natural way
Write strong headlines for articles
Respond to comments within a short timeframe to encourage more engagement (Hootsuite can help with this)
3. Post at the right time
To build an audience on LinkedIn, it's important to post regularly.
Brands that post once a month gain followers six times faster than those that don't, LinkedIn estimates.
Companies who post weekly see the commitment twice.
Brands posting once a day are gaining even more traction.
No matter how often you post, by posting at the best time, aim for the most impact.
Research from Hootsuite finds that the best times to post on LinkedIn are 7:45 a.m., 10:45 a.m., 12:45 p.m. and 5:45 p.m.
For B2B brands, the best day is Wednesday.
Mondays and Wednesday are best for B2C brands.
All audiences are different, so use analytics from LinkedIn or Hootsuite to check that these moments work for you.
4. LinkedIn Live
On LinkedIn, the only format more engaging than video is live video.
Live broadcasts see the engagement that a pre-taped video does 24 times.
Brands, from fireside chats to interviews and webinars, have found plenty of reasons to go live. Some have even had virtual events hosted.
The format allows for instant connexion with members of the audience, particularly if you answer questions and comments.
Before hosting a LinkedIn live, make sure to promote. And not just on LinkedIn. Spread the word across all your audience touchpoints.
5. Create a LinkedIn Showcase Page
To show off a special initiative or engage a target community, create a LinkedIn Showcase Page.
Even if people don't follow your page, these pages give LinkedIn members another way to follow you.
For instance, for its various products and communities, Adobe has five showcase pages.
6. Learn from LinkedIn Analytics
To enhance your LinkedIn marketing strategy, check LinkedIn Analytics regularly.
Track post metrics to see what most individuals were involved with, what drove the most action, and what flopped.
Adjust the calendar of your content accordingly.
You can also track how people find your page from the analytics dashboard and what parts they interact with.
Compare how many page views your tabs get, and if you manage a Showcase Page, see how much traction it's getting.
Visitor demographics gives you a sense of who's interested in your company.
Check the Companies to Track table to see how your page is performing relative to competitors.
When it comes to total followers and new followers, this section lets you compare where your page ranks.
Over a selected period and total engagement rate, you can also see how many updates each page posts.
Tip: From the People tab of their LinkedIn pages, learn more about client or competitor employees. You will be able to see where they have been studying, job titles, abilities, and the workers themselves.
7. Target the right audience
Its organic targeting option for posts is one of the more noteworthy LinkedIn marketing tools.
Based on follower profile data, including organisation size, industry, job, seniority, geography, and language preference, page admin can target posts.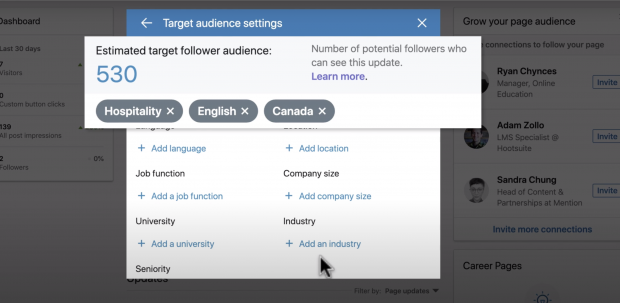 Step up your LinkedIn marketing strategy with LinkedIn ads, if budgets allow.
LinkedIn ads, available in a variety of formats, enable brands to target and reach members outside their established followers.
Personalization choices even allow you to address members of LinkedIn by name, which makes a difference.
On average, sponsored InMail emails have a 52% open rate.
Struggling with finding your right target audience. Don't worry, we will help you build your buyer persona and target the right audience. Get in touch with us today.
8. Customize your public profile URL.
Customize your LinkedIn public profile URL to make your profile look more professional and easier to share.
It will look nice and clean, instead of a URL with confusing numbers at the end.
Click View Profile to do this, and then click Edit Public Profile and URL.
Here, you can change your URL to anything you want, such as your first and last name or business name, assuming another LinkedIn user has not already taken it.
9. Add a ProFinder Badge to your profile.
You might consider adding a ProFinder Badge, which is used within the ProFinder of LinkedIn to identify freelancers.
This service matches contractors with project executives who are seeking assistance.
To show prospective customers their skills, knowledge, and recommendations, freelancers can display a ProFinder badge on their profiles.
LinkedIn offers two badge themes for you to choose from:
10. Take advantage of the blog and website links on your LinkedIn profile.
Adding links to your portfolio and social networks is a great way of getting recognised.
To increase clicks, you may also add links to your content and business information.
You can draw more attention to specific areas of your page to drive traffic elsewhere with this feature.
For example, if you produced a podcast, you can share links to your episodes on LinkedIn (e.g. SoundCloud tracks) to promote your work.
For example, if you produced a podcast, you can share links to your episodes on LinkedIn (e.g. SoundCloud tracks) to promote your work.
11. Communicate with your LinkedIn Group.
And on that note, there are more reasons for building your own LinkedIn group.
In reality, one of the advantages of running a LinkedIn group is that LinkedIn makes it easy to communicate and communicate with the members of the group that you are in charge of.
You can either send messages to members of a group or create a post for the group.
Sending messages allows you to write directly from your group page to a member of your group or share content with them.
This is great if you have something to share in your group with a particular individual.
Creating a group post allows you to share any content that you want on the page of your group, which is ideal for initiating a debate.
12. Leverage @mentions in your status updates.
Do you want another user or company on LinkedIn to see your status update?
You have the ability to tag users and other businesses in your status updates on LinkedIn, or @mention, much like the way it works on Facebook, Twitter or Instagram.
In your status update or post, include the @ symbol immediately followed by the user's/company's name.
This will alert the user/company that you mentioned them, and their name will also link to their profile/page.
This is a great way to increase your content engagement and interaction, as well as improve brand awareness.
13. Experiment with LinkedIn Sponsored Content and Native Ads.
LinkedIn Ads are a smart choice if you're looking to complement your organic LinkedIn marketing efforts with some paid advertising.
One of the biggest benefits of advertising on LinkedIn: the options for targeting.
The PPC ads from LinkedIn allow you to target specific job titles, job functions, sectors, or company size, to name a few, you know, the individuals who are more likely to want/need what you sell.
In this era of globalization and digitalisation, it's necessary to have your presence in the digital sphere. We believe that a business with a great digital team have no bounds and can reach out to every nook and corner of the world effectively and at optimum costs.
Web Bazooka provides end to end solutions, from designing your digital logo to website architecture, to social media pages and the required blog posts as per your requirements. 
Get in touch with us now: Web Bazooka – India's leading Digital Marketing and Advertising agency.