Pinterest Marketing is your business's new best friend.
Social media is evolving everyday. And if you think still think that it's only about Facebook and Instagram, you need to wake yourself up.
Pinterest pins are 100 times more spreadable than a tweet, with only 1.4% hit on the retweet average.
And the half-life of a pin is 1,6000 times longer than a Facebook post, as with Facebook.
Ever since the purchase of Instagram by Facebook, Pinterest has become the other go-to platform for digital marketing.
Which works out well for us. How? Let us explain.
If a 27% increase in Fortune 500 companies' Pinterest accounts over the last year (including Exxon Mobile, Wal-Mart, and Apple) is not an indication that the 250 million total users should be joined by your business, we don't know what it would be.
The real strength of Pinterest is the integrated characteristics of their business accounts, aside from feeding obsessions with exotic destiny vacations and gourmet food.
Join the 500,000 companies with Pinterest for Business accounts, and on one of the fastest-growing and incredibly popular social media platforms, you will get added marketing features to promote your brand.
We know you might be wondering why your business needs Pinterest.
Here are 7 reasons why:
Pinterest is the fourth most popular social media platform in the United States.
Believe it or not, it ranks ahead of Twitter and Snapchat! It is said that approximately 28% of adults in the US use Pinterest daily.
And we all know the speed by which any social media platform is growing, especially during these days. This estimate could have increased by a substantial amount as you're reading this!
Pinterest has a strong global footprint, too.
From 2018 to Q3 2019, the platform's international base of monthly active users grew 38%, from 171 million to 235 million.
People are now getting addicted to this platform.
Since last year, the number of Pinners using Pinterest every month increased by 28% to 322 million monthly active users.
Visual search is on the rise
Pinterest is the only social media platform to offer visual search as a "visual discovery engine."
That's enormous, since 62% of Gen Zers and millennials say they want to be able to search for images.
More than 2.5 billion home and fashion objects can now be identified by Pinterest Lens, according to the company.
Pinterest is widely used by women – especially moms
Women constitute more than two-thirds of Pinterest 's base.
8 in every 10 moms are on the platform in the United States.
Also, women are the primary decision-makers when it comes to purchasing household products and services.
Pinterest is also used for shopping
Some 84% of users use Pinterest on a weekly basis to help decide what to buy.
55% of Pinners specifically search for products, according to Pinterest.
And 83% of weekly users have made a purchase on Pinterest based on content they see from brands.
Pins boost brand exposure
Pinners like discovering new goods.
In fact, 75% of Pinterest users, compared to 55% on other digital channels, say they are "very interested" in new products.
And it works!
On Pinterest, some 77 per cent of weekly users regularly discover new brands and products.
Pinterest also inspires people
To search for ideas and prepare for special events, people use Pinterest.
Some 95%of members say they are inspired by Pinterest, and 91% say they are helped by Pinterest to achieve their objectives.
Your brand is able to be so much more than your brand on Pinterest.
Be a source of inspiration for your clients in their daily lives or play a more meaningful role.
Now that you're clear on why you need to invest into Pinterest Marketing, let's get into how you should be doing it.
Web Bazooka provides end to end solutions, from designing your digital logo to website architecture, to social media pages and the required blog posts as per your requirements.
Pinterest Marketing: Top Strategies
1. Create Captivating Content
On Pinterest, visuals speak volumes. In fact, 85% of Pinners place more significance on visuals than text in a Pinterest study.
But that doesn't mean you're supposed to slap your copy.
Your pins on all fronts should be designed to deliver.
How do you make a good pin?
Vertical photography. 85% of Pinners are mostly on mobile. Shoot for a 2:3 aspect ratio to avoid truncating your image and aim for the highest quality.
Descriptive Copy. Tell people what they're seeing, and entice them to want to learn more.
Text overlay. Consider including a headline that reinforces your message.
Tasteful branding. Include your logo your brand doesn't get lost in the RePin shuffle.
Good storytelling. Once you hook people in, show your brand in action. That way Pinners can imagine themselves as customers.
This is how Nike does it.
To check what kind of content is working out the best for you, you can use "Pinterest For Business" account for analytics. Once a pin starts getting some interaction, fan the flames by giving it some social love.
2. Pin consistently
Pinterest recommends that something should be pinned once per day.
This is more efficient than creating a board at once and filling it up.
Pinning frequently ensures that your content reaches a broader audience.
On Pinterest, you can schedule pins to ensure that your account remains consistent.
To determine when your content gets the most engagement, take advantage of Audience Insights.
When the bulk of your audience is online, it's always best to post.
3. Plan ahead for seasonal content
The key to Pinterest marketing is planning ahead. And pinners enjoy planning ahead.
That means, your brand needs to be an even better planner on Pinterest. Pinterest proposes that seasonal content be shared 30-45 days in advance.
Also, we all know how big of an opportunity seasonal holidays are for brands.
In 2018, over 56 million searches were made for Valentine's Day, 227 million for Halloween, and 321 million for holidays in December.
Unsurprisingly, content that is timely sees a corresponding holiday boost. According to Pinterest, promoted pins that align with life moments and holidays see a 22% lift in online sales.
Look for inspiration through the Pinterest Seasonal Insights planner. Choose holidays where your brand can create content and make sure that the correct keywords are used.
This is what Oreo did for Christmas.
4. Use boards to connect with Pinners
If you want more followers on Pinterest, you need to give Pinners a reason to.
Create tutorials or DIYs in a series. Or use your products to curate a board filled with clients.
Cosmetic brand Glossier has separate boards for lip, brow, and other makeup ideas on its Pinterest profile.
There's a board filled with over 150 ideas for makeup, too.
But the most popular board, by far, is the BEAUTYCHAT group board.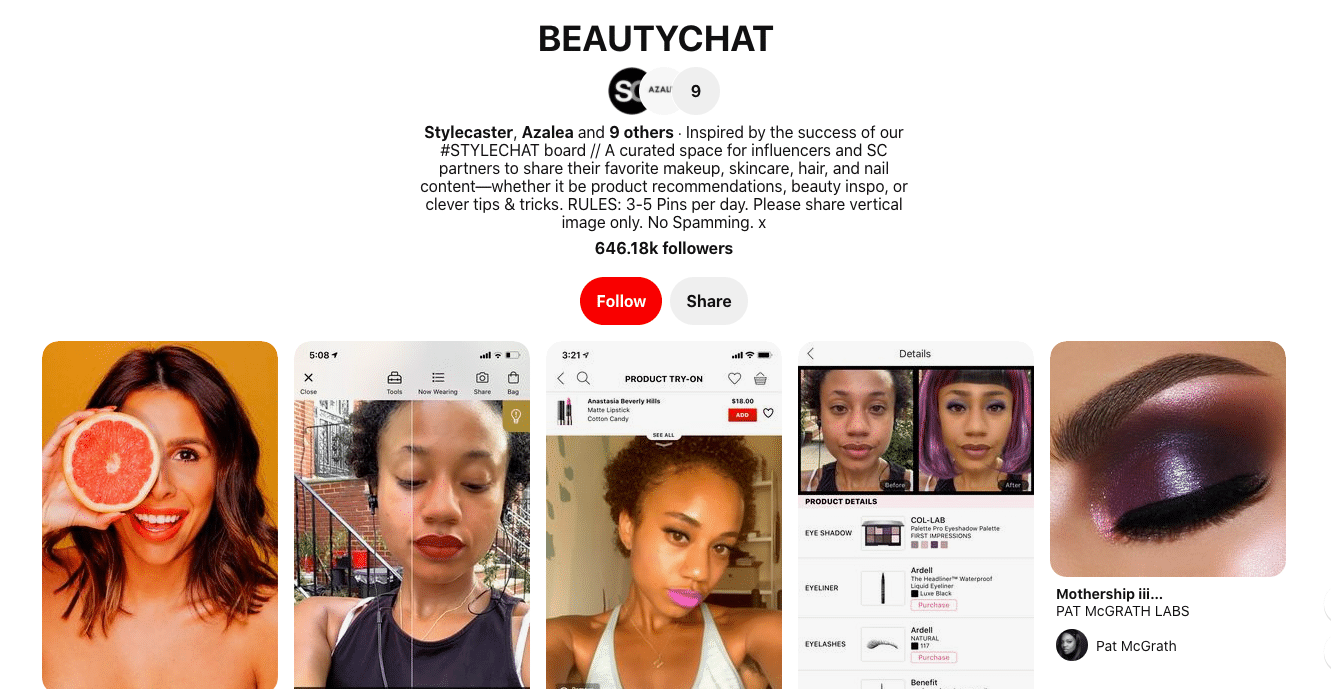 This board is a curated space for influencers and partners to share their beauty content, as the company explains in its description.
There are clearly stated rules for participation, including a limit on how many pins can be added per day.
The board now has more than half a million followers and more than 2,500 pins, more than six times the amount of any other board.
You can also build interest with a tips board.
Pinterest has also recently rolled out new group board features, so you can easily respond to the sharing of posts by group members.
Another great way to connect with more pinners is to share your pins or boards on other social media channels.
5. Optimize for Pinterest SEO
After all, Pinterest is a visual search engine.
Keywords are the basis for content discovery on Pinterest, just like any search engine. That's why it's essential to use them and descriptions in your business, board, and pin names.
Hashtags are also helpful, especially since those they are interested in can be followed by Pinners.
There are several things you can do to optimise for SEO on Pinterest, beyond doing good keyword research.
You can also use Pinterest for building backlinks. You have two opportunities with each pin to add your link: one in the description and one in the source for the pin.
One can also embed pins on your blog. This is a great way to get more repins.
(We offer the top ways to rank with Pinterest SEO, from pinning content from your website to boosting engagement. Contact us today for a free consultation call).
Web Bazooka offers the top ways to rank with Pinterest SEO, from pinning content from your website to boosting engagement. Get in touch with us today for a free consultation call.
6. Create a content strategy that delivers
Nearly all searches through Pinterest are non-branded. Some 97%, in fact.
That means that brands have plenty of opportunities to be discovered, especially when there are strong content and SEO strategies in place.
Exposure is important, but it is necessary to follow through with a good content strategy.
As Pinterest recommends, marketers should "Build a strategy that takes customers from awareness to buy." Once an interest is shown by a Pinner, your content should take them from interest to decision to action through the marketing funnel.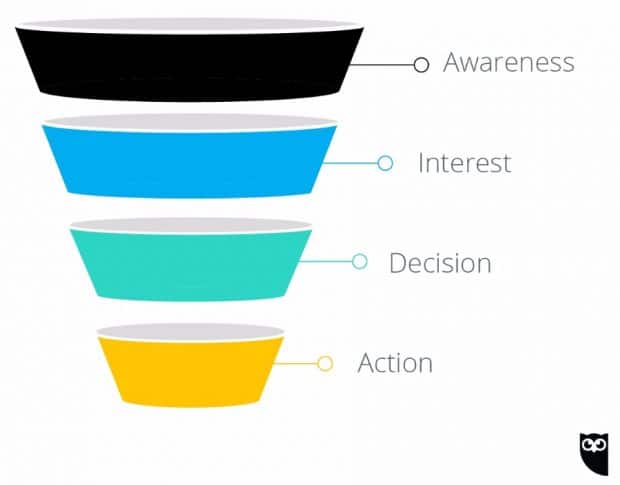 Brands should quickly reconnect on Pinterest with engaged Pinners.
Findings from a recent Oracle Data Cloud study show that, within 10 months of its launch, Pinners were more likely to try a new product when it comes to consumer packaged goods.
The takeaway? "'Heavy up' on media at the beginning of the campaign," says Pinterest.
7. Target the right Pinners with ads
Ads are another efficient way to follow through on Pinterest.
Pinterest enables advertisers to target advertisements based on keywords, interests, location , age and other demographics.
Meanwhile, audience targeting lets advertisers reach the following groups:
A customer lists, such as newsletter subscribers
People who have visited your website
Audience who have engaged with your Pins
People who have engaged with similar content
It is also possible to create Actalike audiences to help marketers discover individuals similar to their clients. Just select as a source an existing audience, and Pinterest will find you like-minded Pinners.
8. Make shopping easy on Pinterest
Pinners like to shop, as we know.
We need to make it easier for them to gain popularity on this site.
One way to do this is Shop the Look Pins.
By allowing individuals to click on the specific home decor or fashion item that interests them, these pins streamline the online retail process.
Links take them straight to the product page so that, if they wish, they can buy something immediately.
Recently, Pinterest also introduced a Shop tab for company profiles. This dedicated tab enables Pinners to directly shop the products of a company from its profile.
While it's still new, it shows promise for companies to be an effective point-of-sale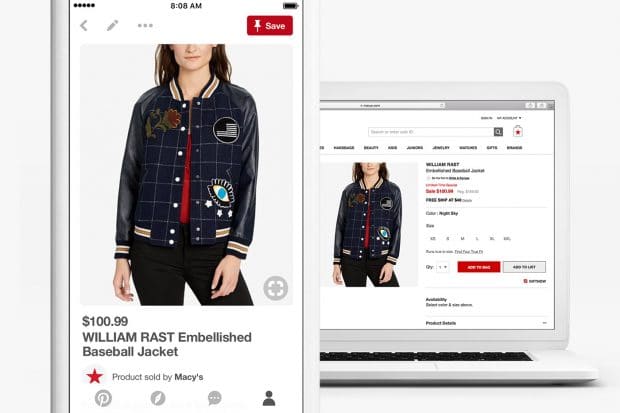 .
In this era of globalization and digitalisation, it's necessary to have your presence in the digital sphere. We believe that a business with a great digital team have no bounds and can reach out to every nook and corner of the world effectively and at optimum costs.
Web Bazooka provides end to end solutions, from designing your digital logo to website architecture, to social media pages and the required blog posts as per your requirements. 
Get in touch with us now: Web Bazooka – India's leading Digital Marketing and Advertising agency.