Let me begin this article by defining what is 'Growth Hacking'? And then we will elaborate on 15 of the Most Powerful Growth Hacking Strategies that will help grow your Startup.
Growth hacking is a technique guided by experiments to determine the most effective ways to grow a business. The process involves a mixture of marketing, design, engineering, data, and analytics.
Why is it called 'Growth Hacking'?
Probably because it's a hack.
Yes, you guessed it right. It literally is what it sounds like. It does hack growth.
And a growth hacker is someone who finds out more creative ways of doing something conventionally. These creatives ways are more cost-effective, quick, and unique.

Growth hacking strategies revolve around creating and implementing business strategies to ensure easy acquirement and retainment of customers.
How is growth hacking done ?

To achieve their goals, they utilize the power of content marketing, SEO, A/B testing, viral marketing, email marketing, or reverse engineering.

Sounds too technical? Don't worry, we have it all sorted out and we'll walk you through it!
Growth Hacking Strategies every Startup should follow
What if we told you that you could outgrow your potential more than what it is right now?
Yes, you can and to do that, you would have to leverage the following practices to grow and expand your business and increase your profits sharply.
Growth Hacking Strategy 1. Create a Pre-Launch list
When it comes to an effective growth strategy for startups, email marketing remains king in finding both leads and conversions.
Put your focus on creating a mailing list. It will enable you to reach your audience, and effectively deliver your message. In addition, email marketing helps businesses greatly build pre-launch hype for any product or event.

This in turn enables you to create a pool of potential customers even before your product is out there to interact with them! However, a lot of people make the mistake of merely creating a list of emails and doing nothing about it.

Don't be one of them. Use this list of potential customers and write emails to them to create hype about your product or your service.

For this, you can use tools such as MailChimp.

It lets you effectively push emails. Since communication plays an important role in conversions, make sure you reach your potential customers at least a week before its launch.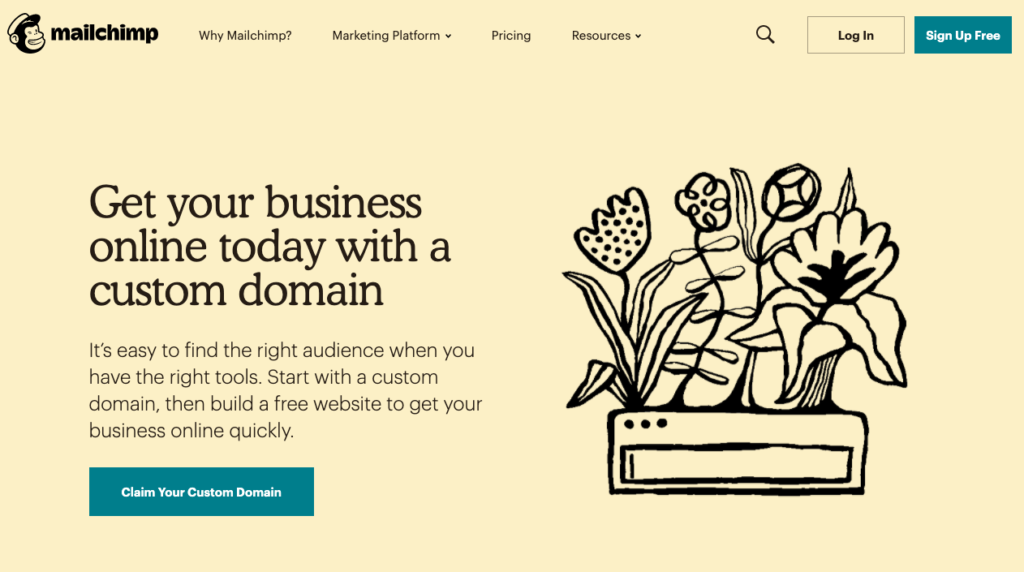 Growth Hacking Strategy 2. Leverage Referral Marketing
Referral marketing focuses on promoting your products or services to new customers through referrals. These referrals are usually word of mouth.

Referrals from friends, family, or industry influencers convert a lead relatively much faster than other means. The CPA of referral customers is lower, so you can cut your costs too

Such customers have better retention rates resulting in a higher LTV of 16 percent ( LTV refers to lifetime value of a customer, as in the projected revenue that a customer will generate during their lifetime.)
In addition, sales experts with referral programs are also earning four to six times as much.


Airbnb's referral program is one of the best examples of referral marketing. They used this program to create a database of customers who are into traveling to increase their brand awareness and reach. The idea was simple, every time you invite a friend, you get up to 1650 INR credits.
Don't you think referral marketing is a great strategy to grow your business fast. Have you tried to implement referral strategy for your business. If not, do you want us to implement referral strategy for your business, get in touch with us now.
Growth Hacking Strategy 3. Influencer Marketing
There is a reason why brands pay influencers to endorse their products when it comes to brand building.

Working with well-known influencers is a powerful way of reaching out to a wider public.
Usually, influencers having more than 50000 followers are the most impactful.
Influencer marketing becomes a very fruitful tool if it is done correctly.

Entrepreneurs can use this tool to further increase their brand awareness by asking influencers to share news or any information about their brand.
Using the authority and reach of influencers is a great marketing growth hack for fresh startups that can't afford to compete with established brands on marketing budgets. Because influencers already have an established following, they can be used as a potential client base by companies.
Take the case of Gymshark, a brand that is well known for using influencers to increase brand reach and sales.
In fact, in the early days, Gymshark depended heavily on the influencers in bodybuilding and fitness industries for creating brand awareness and generating traction.
Growth Hacking Strategy 4. Finding corporate or affiliate partners

Partnering up with other applications or products is another effective for hacking your business's growth instantly.

Samsung and Dropbox are one great example of that.

In 2013, Dropbox offered free 50 GB storage for two years to Samsung customers who had purchased a new phone or camera. Normally the free plan is just 5 GB.

The strategy here is to get those users so used to their 50GB of Dropbox storage that they'll be willing to pay for it once the two free years are up.
You could also start your own affiliate program, instead of partnering directly with another company.
Starting an affiliate program means you are building a network of individuals or firms that promote your product for you. You pay the affiliate a percentage of the sale if one of their users clicks on their link and buys your product.
Growth Hacking Strategy 5. Utilize Viral Sharing
Affiliates and influencers are great, but you can also tap your existing network of users to refer their family and friends.
Dropbox is doing a fantastic job of that again. They offer more space for different actions, such as referring a friend via email or posting about Dropbox on Twitter.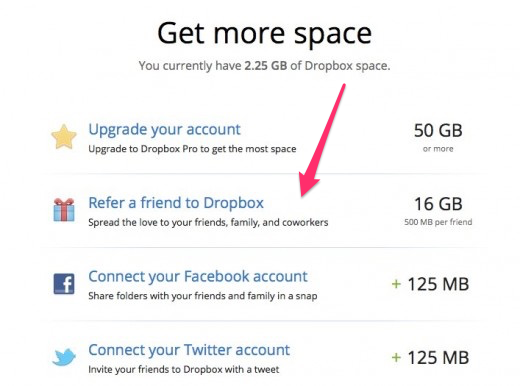 It's all psychological, you see?
When others share your app, it boosts your social proof.
This social proof is psychological. When other people see that others are using your app and are talking about it, they would assume that it has to be pretty cool and would try it out themselves.

Reviews are also important. 77% of consumers look at reviews of products before buying anything.
Having a bunch of people on social media talking about your app is like getting testimonials from the thousands. 84% of buyers say they trust strangers 'online reviews as much as their own friends'and family's reviews!
Remember Candy Crush?
It allows you to get more lives just by messaging people about it with one tap. This is how it got so popular in the first place. If you recall, you must have also received countless texts from your friends to play it.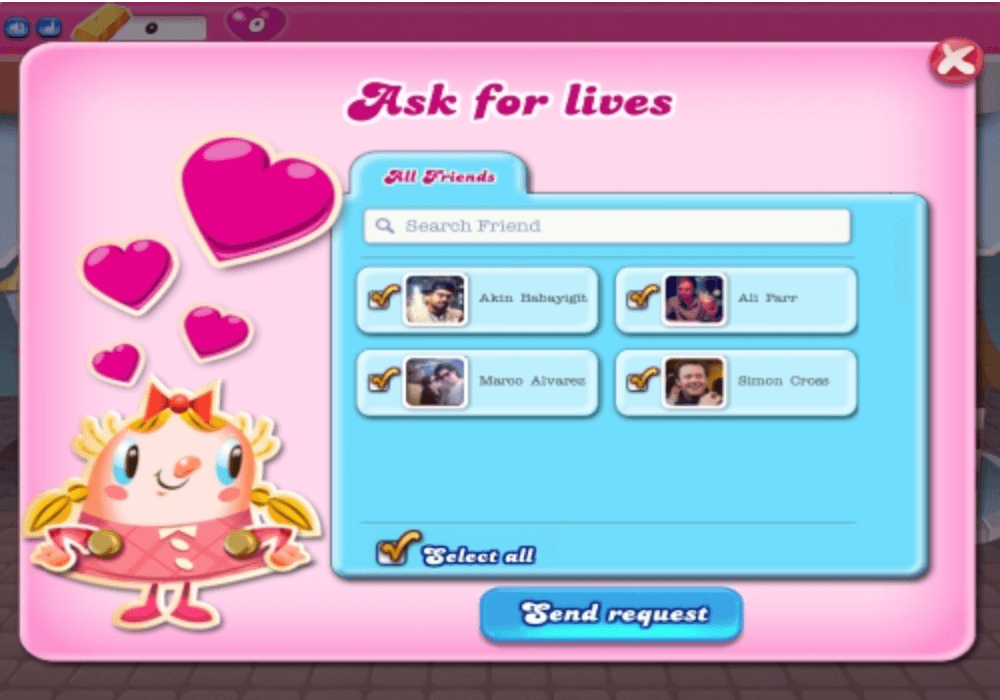 Another great strategy to encourage sharing is to appeal to the nature of humanity. Through that, we mean vanity. This works particularly well for applications which are based on fitness or achievement.
Fitbit is a great example for this.
Fitbit has understood how fitness lovers love sharing their daily stats on Instagram. And for that, it puts up a perfectly square image of a user's daily fitness stats which are Insta-ready!

Growth Hacking Strategy 6. Give out a free version
It can be a super effective way to grow your user base by having a free version of your product with limited features, known as the Freemium model.

This works for all sorts of apps, from games like The Sims to giants like Spotify music streaming. It works so well, because getting users in the door is easy.

This is because the users have got nothing to lose by downloading the free version. If they don't like it, they will just delete it.

But to encourage free users to become premium ones, Spotify plays audio or video advertisements after a couple of songs. The secret is that, after a while the user is most likely to get annoyed by the constant interruption and upgrade to a paid version.
It also offers a lot of other better features in it's paid models.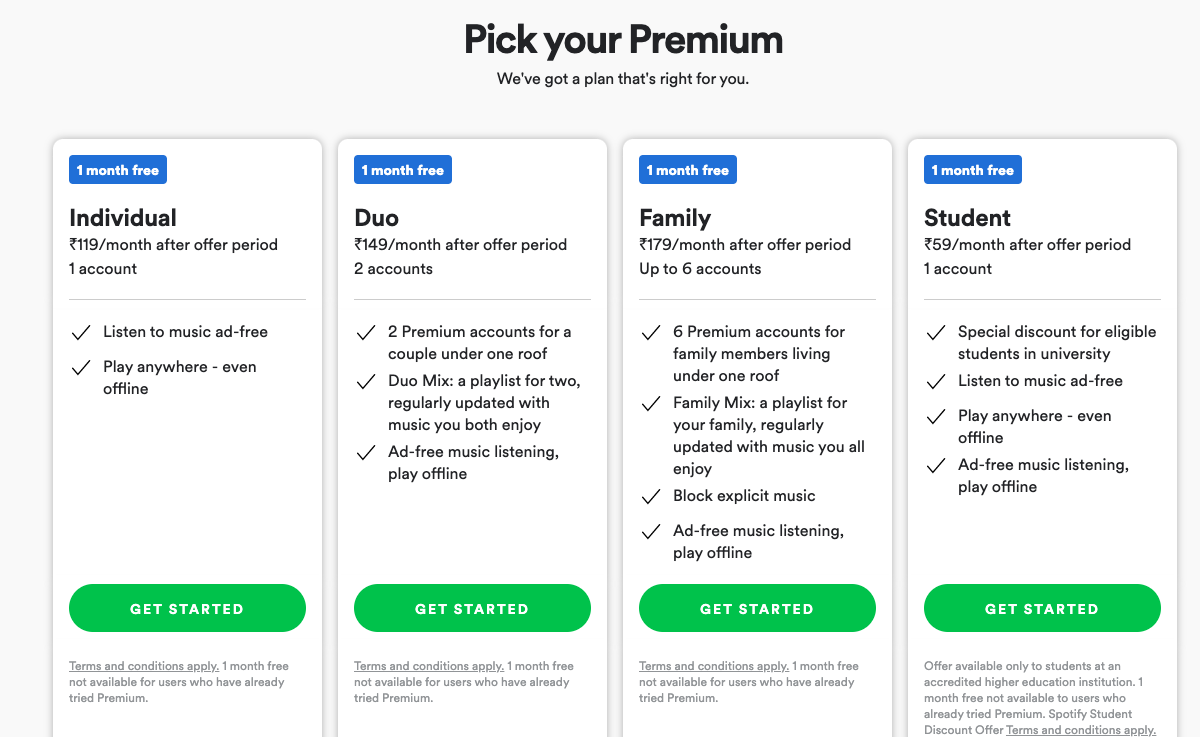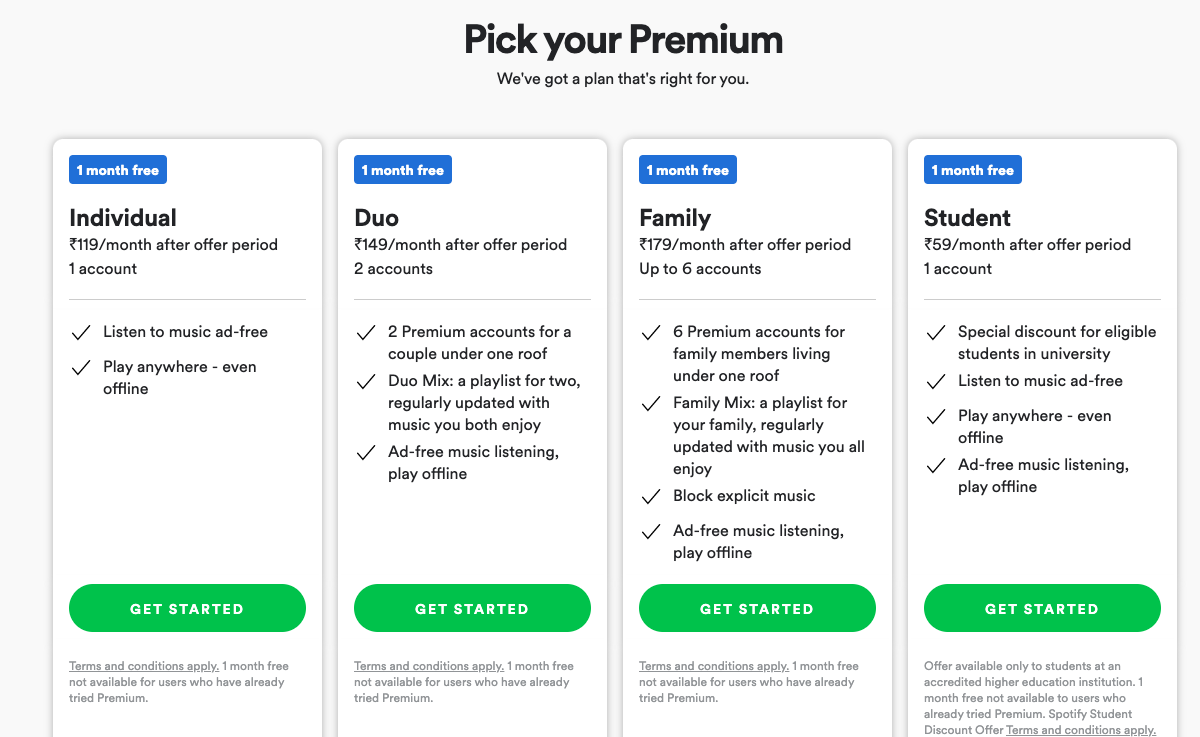 Growth Hacking Strategy 7: Create a waiting client list
Another very interesting method of growth hacking is a viral waiting list, filled with the vitality quotient. You will generate a landing page typically when you launch a product to describe it to a wider audience.
The hack here is to take one step further and take advantage of this landing page even before product launch.

For this, all you have to do is turn your landing page into a viral waiting list. Easy and simple. You can use tools such a Vyper or ReferralHero.
What it does is put your subscribers in a queue which allows you to create a program based on rewards. Thus suppose a user gets enticed by your offer and signs up for your launch updates, the position they are on in the waiting list will be displayed.
You can create a program of rewards here and announce whoever is on the top 10 of the waiting list will receive a special reward. You need to be unique about your rewards tho, this is where everyone's attention is going to be at. Your rewards can either be a free e-book, webinar, or anything that is related to your niche.
This will create virality and make your product message popular, thereby increasing its hype and curiosity before launch.
Even before startup, the end result will be higher customer/user acquisition. The app turns them into ambassadors for your brand.

Growth Hacking Strategy 8. Mastering the art of SEO
Recommendation and review of hotel site Tripadvisor began as a white-labeled SEO company. This helped the startup to have a deep understanding and knowledge about SEO.
The company was always ranked high in travel-related searches whenTripAdvisor pivoted, thanks to the company's commitment to SEO. In addition, the constant flow of new comments boosts Trip Advisor's SEO juice, with an unceasing addition of new reviews.
To read more about SEO, visit the link below:
Why SEO is important in Digital Marketing
No matter what happens, SEO is going to be amongst the strongest hacks to grow your business robustly. If you are facing any issues with your SEO, feel free to get in touch with us.
Growth Hacking Strategy 9. Combination of Urgency and FOMO
Two psychological hacks complementing any strategy to hack growth are FOMO and urgency.
FOMO is fear of missing out. It depends on the psychological desire of the people not to be left out of something good. And it's probably part of the reasons why it's so effective to use an invite-only system for your company or for new feature releases.
A lot of companies use this and create discount countdowns. This urges people to utilize the sale before they miss out on it.

Growth Hacking Strategy 10. Create a Free tool
Want a growth hacking strategy that has been proven to help people recognize your business?
Create a free tool that is insanely useful.
For example, CoSchedule created the Headline Analyzer online editorial calendar, which you can use for free as long as you sign up for your email list. Once individuals are on that list, the company can impress content marketing subscribers, promote the value of their paid services.
Some Amazing Growth Hacking Examples
1. Facebook
The most favorite social media platform in the world is without doubt one of the best examples of growth hack in today's digital landscape.
Facebook has become a fact of life for us now with more than 2 billion users. This question about Facebook growth hacks on Quora reveals 2 effective techniques used by this social media giant to scale itself.

First was one encouraging people to invite their friends and family to join Facebook so that, they could connect with each other no matter how far they were from each other.
And the second was, Mark Zuckerberg himself sent emails to his friends and family asking them to create a Facebook account.
This growth hack stirred up interest among many as they became curious about who tagged them on Facebook or mentioned them. They wanted to see what they'd been told on Facebook.
They also wanted to see what they would get after they signed in.
2. PayPal
Growth hacking strategies have worked wonders for PayPal.

Their approach to hack growth was to use a referral program. They started to encourage users who brought in more users using the referral program from PayPal.
As a result, on a daily basis, PayPal's business began to grow by 7 to 10 percent. The total cost of the incentives was almost 60 million dollars.

What's more interesting is that in those times, social media wasn't that popular as it is today. PayPal grew its customer base solely out of word of mouth through SMS, emails, blogs, etc.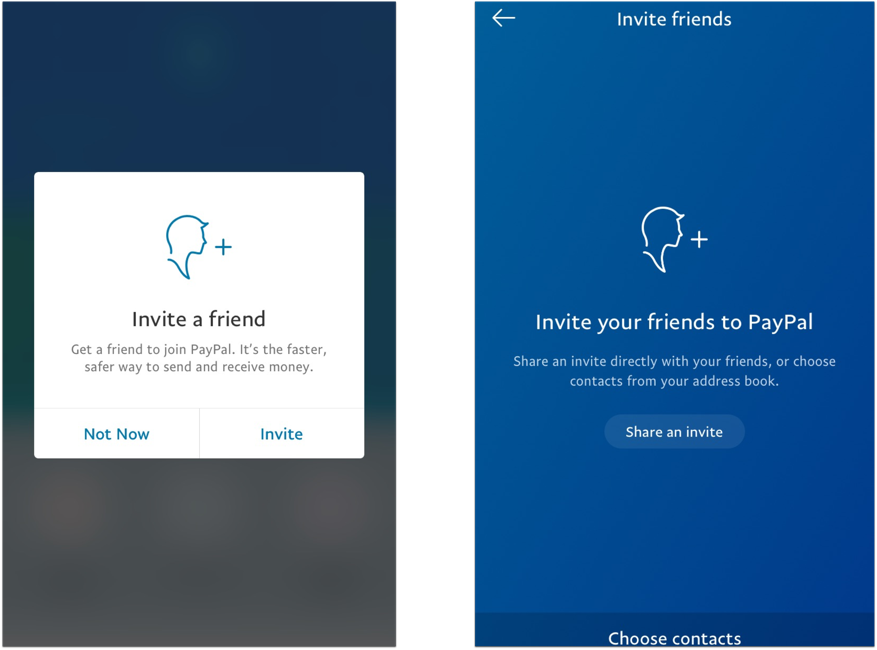 We believe that a business with a great marketing team can make an impact on the world. Take the first step: get in touch with us, and together, we will reach your company's goals.
3. Gmail
Gmail utilized the potential of FOMO when it first released. It used an invite only system to drive growth, and it worked.
This goes to show how powerful of a marketing technique 'Fear of missing out' (FOMO) is that is used in growth hacking.
At the time, Gmail offered great email search capabilities, and better email management: in fact, in every email program, many of the features we now take for granted. The invite-only growth hack worked so well that eBay auctioned Gmail invitations.
This is because, with open tools and communities, this growth hack works best. With Gmail, besides Gmail, you can still email people using other email services, so the exclusive invitations worked well.

A word of caution: But with closed-off social networks such as Buzz or Google+, if you're the only one there, the platform itself is unusable-so limiting invites backfired.
4. Hotmail
Never underestimate the power of signing an email. The next one on our growth hacking strategy list is disappointingly simple.
Hotmail (the precursor to Outlook.com) has added a signature line to the outgoing email from each user, inviting email recipients to obtain a free account.

That was all it took to engineer super-fast growth in 18 months for 12 million users.

5. Tinder
For some of the most impressive campaign strategies, Tinder is probably one of the largest dating platforms with a commendable status. Tinder utilized some of the most creative strategies to stimulate unprecedented growth.

Tinder 's approach is clearly demonstrated by the KISS campaign (keep it simple stupid) which created a lot of sensation among many youths in the country with highly targeted college campuses.

Hence their growth hack was organizing Tinder FRAT parties at universities around the world where the only "fee" was downloading the free app. Tinder's user base grew astronomically as Tinder was thrust into becoming one of the top dating sites.
And lastly, some wise words:
"The secret of getting ahead is getting started."

– Mark Twain
In this era of globalization and digitalisation, it's necessary to have your presence in the digital sphere. We believe that a business with a great digital team have no bounds and can reach out to every nook and corner of the world effectively and at optimum costs.
Web Bazooka provides end to end solutions, from designing your digital logo to website architecture, to social media pages and the required blog posts as per your requirements. 
Get in touch with us now: Web Bazooka – India's leading Digital Marketing and Advertising agency.
Web Bazooka provides end to end solutions, from designing your digital logo to website architecture, to social media pages and the required blog posts as per your requirements.